Avalanche
With Avalanche it is simple to manage your Returnable Transport Items (RTI's, RTI-management). The system has an user-friendly interface and offers many smart functionalities for management and administration. Avalanche is the standard in the field of load carrier management.
Why Avalanche?
Constant and real-time visibility in the flows of your goods offers you the opportunity to optimize your load carrier management. With Avalanche you continually get the latest overview of inventory, availability, flows and activities within your pool. The solution has extensive functionalities to manage your data such as rights & roles, locations, transporters and products. Avalanche is the market standard in the field of load carrier management.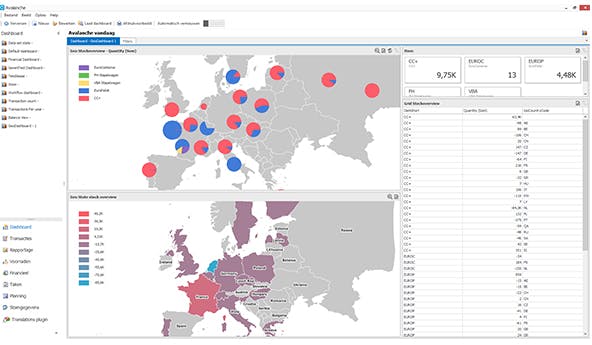 Advantages
The administration of all logistical transactions is fully automated. For you and also if desired for your customers. You know exactly where your load carriers are. Avalanche offers maximum control through minimal effort: from transport planning to rent modules and from track & trace with RFID to comprehensive reports. Steering on quality and efficiency. This solution meets the demands and needs of the user. Employees work more efficiently and your supply chain becomes more transparent. Customers have more insight in their product use and supplies.
In practice
Effective use and transport of load carriers saves you money. Loading your trucks becomes easier and more effective and you can generate the associated reports. The lading of the truck, manifest and transport confirmation. You get insight in volumes, available tonnage and expected costs.
Avalanche supplies an inventory overview per customer location. You can view audit- and stock numbers, overviews of lead times, actual stock and average numbers per location. It is also possible to view the statistics of the previous months.
With the Pricing module it is easy to record financial agreements. Rent, deposits, tariffs and all other financial business. Completely according to your specific needs and desires and at different management and customer levels. You can also create financial reports for internal and external use.
Result
You can always see current streams, inventories and availabilities. With Avalanche you can steer based on quality and efficiency. Optimize the flow of goods and made to measure. With minimal effort you can gain maximum. A solution focused on the user, which delivers ease and savings.
Advantages of Avalanche in short
Real time overview of locations, numbers and transactions
Overview of item locations in the complete supply chain, including historic data
Clear reports and analysis: circulation times, durability and losses
Customers request their own reports and adapt information
Multiple options, for example automatic replenishment